Afhalen: boerenpicknick bij Maxima's
Geniet van een gezellige boerenpicknick, af te halen bij Maxima's: goedgevulde picknickmand met salade, vers fruit, broodje, yoghurt en meer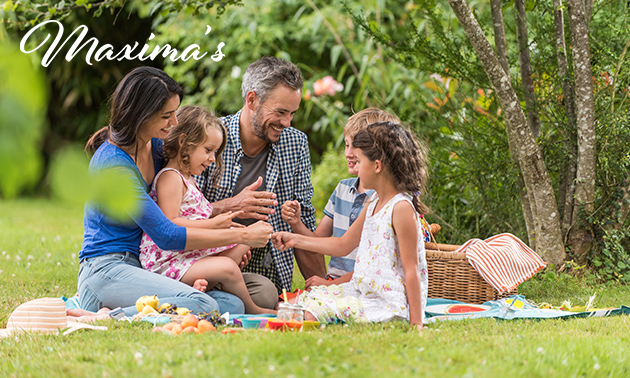 tousenowoutline Now available
Highlights
Afhalen: compleet verzorgde boerenpicknick bij Maxima's
See the content of the deal here
Je wordt ontvangen met koffie en zoete minibroodjes to go
In de picknickmand vind je alles voor een gezellige en smakelijke middag in de buitenlucht
Smul van salade, yoghurt, een belegd broodje, vers fruit en meer
See the great reviews here
Ook geldig op zaterdag
Even puur genieten!
The fine print
This deal can be used now
Valid from moment of purchase until 1 May 2021
Reserveren:

na aankoop online reserveren met 'Social Deal Reserveren' (te vinden onder het overzicht: mijn vouchers)

reserveer met ten minste 2 personen (1 voucher is geldig voor 1 persoon)

je kunt tot 09.00 uur op de dag zelf je reservering wijzigen of annuleren, hierna vervalt je voucher

De picknickmand dient na afloop retour te worden gebracht
Vragen over de deal? Bel: 088-205 05 05 of WhatsApp met: 088-205 05 05
Read more
Wil jij genieten van een mooie dag in de buitenlucht? Ga dan voor een boerenpicknick van Maxima's. Jij haalt hier namelijk een goedgevulde picknickmand af boordevol lekkers. Tijdens het afhalen krijg je een kopje koffie en zoete minibroodjes mee voor onderweg. In de picknickmand zit alles wat je nodig hebt voor een gezellige en smakelijke middag. Even puur genieten!

Boerenpicknick

Ontvangst
Koffie en zoete minibroodjes to go
Picknickmand
Flesje water
Vruchtensap
Vers fruit
Yoghurt
Broodje gezond of broodje brie
Salade
+ alle benodigdheden:

kleedje
bordjes
servies
etc.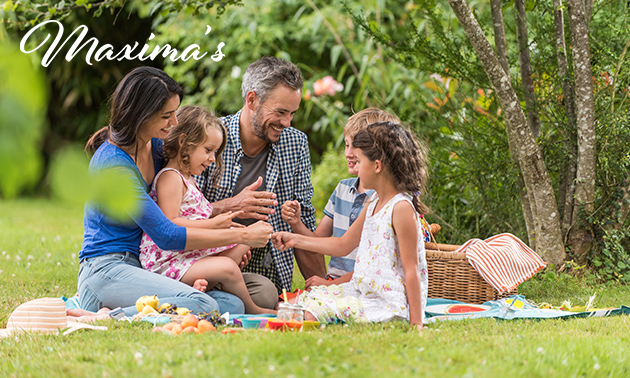 Afhalen: boerenpicknick bij Maxima's
tousenowoutline Now available
Geniet van een gezellige boerenpicknick, af te halen bij Maxima's: goedgevulde picknickmand met salade, vers fruit, broodje, yoghurt en meer