Saunadag bij BLUE Wellnessresorts
Pure ontspanning met een compleet dagje wellness bij een BLUE Wellnessresort naar keuze: relaxen in de panoramasauna, de whirlpool, het kruidenbad en nog veel meer BLUE Wellnessresorts
8.8 star
Highlights
Complete dag genieten bij BLUE Wellnessresorts in Leiden, Sittard, Helmond of de unieke Wellnessboot in Mill
See the great reviews here
Toegang tot alle luxe sauna- en wellnessfaciliteiten
Geniet in de panoramasauna, whirlpool, baden en nog veel meer
Inclusief gebruik van scrubzout, douchegel en shampoo
Gratis deelname aan het belevenisprogramma met onder andere opgietceremonies en floatation
Ook geldig in het weekend!
Beleef een dag vol pure ontspanning en kom helemaal tot rust!
The fine print
Valid from moment of purchase until 1 Jun 2021
7 dagen per week geldig
Niet geldig van 3 t/m 7 december
Reserveren: na aankoop verplicht reserveren via de website (onder vermelding van Social Deal)
Voor de klankschalensessie in het belevenisprogramma geldt een toeslag van €4,95 p.p.
Badkleding is alleen toegestaan op badkleding-mag-dagen
Niet geldig in combinatie met andere acties/arrangementen
Alleen geldig bij BLUE Wellnessresorts Helmond, Leiden, Sittard en Wellnessboot Mill
BLUE Wellnessresorts ist geschlossen bis einschließlich 27 Apr 2021
Vragen over de deal? Bel: 088-205 05 05 of WhatsApp met: 088-205 05 05
Read more
Toe aan een dagje lekker ontspannen? Dan ben je bij BLUE Wellnessresort aan het juiste adres! Kom volledig tot rust en geniet van alle luxe en comfort. Je kunt langskomen bij het resort in Helmond, Leiden of Sittard óf bij de unieke wellnessboot in Mill, en krijgt de volledige dag entree waarbij je gebruik mag maken van alle sauna- en wellnessfaciliteiten.

Relax in de luxe sauna's, koel lekker af in het zwembad en droom even helemaal weg in de whirlpool. Je mag vrij gebruikmaken van scrubzout, douchegel en shampoo. Ook mag je gratis deelnemen aan de floatation en het bijzondere dromenritueel. Na deze dag voel jij je als herboren!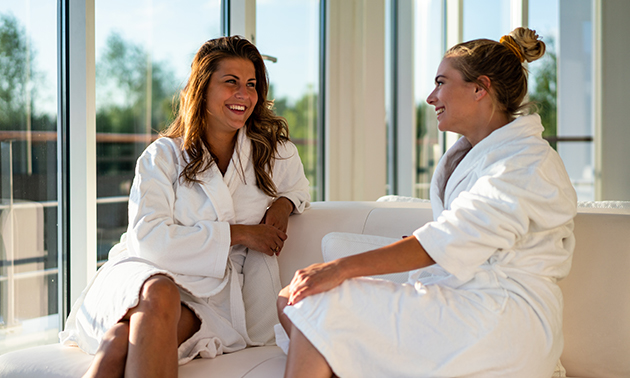 Saunadag bij BLUE Wellnessresorts
BLUE Wellnessresorts
8.8 star
Pure ontspanning met een compleet dagje wellness bij een BLUE Wellnessresort naar keuze: relaxen in de panoramasauna, de whirlpool, het kruidenbad en nog veel meer