Thuisbezorgd: 10-daags dieetpakket + shakebeker
Afvallen zonder hongergevoel met een 10-daags X-treme dieetpakket (gratis thuisbezorgd) van FormaFast: inclusief shakes, maaltijden, maaltijdrepen en een shakebeker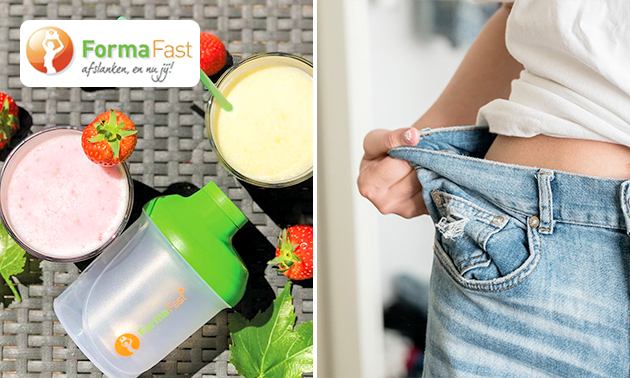 Highlights
Afvallen met een 10-dagenpakket van FormaFast, kosteloos thuisbezorgd
Zie hier de inhoud van de deal
Inclusief shakes, maaltijden, ontbijtproducten én een shakebeker
Je krijgt voor elk eetmoment 10 producten
Val succesvol en blijvend af zonder hongergevoel
Maak werk van die goede voornemens en ga voor een vliegende start van het nieuwe jaar!
See the great reviews here
Gratis thuisbezorgd!
De producten bevatten alle eiwitten, vetten en mineralen die je uit een normale maaltijd haalt, maar dan met minder calorieën
Volgende dag al in huis wanneer je op maandag t/m vrijdag vóór 22.00 uur je bestelling plaatst!
The fine print
This deal can be used now
Valid from moment of purchase until 21 Mar 2022
Gratis thuisbezorgd op maandag t/m zaterdag
Reserveren: na aankoop via de website reserveren (onder vermelding van Social Deal)
Questions about this deal? Call: 088-205 05 05 or send a WhatsApp message to: 088-205 05 05
Read more
Sport en dieet jij je ook een ongeluk, maar gaan de kilo's er maar niet blijvend vanaf? Maak dan nu kennis met de X-treme Box van FormaFast. Deze box wordt gratis thuisbezorgd en bevat maaltijden, shakes en repen voor maar liefst 10 dagen. Je kunt je eetmomenten aanvullen met koffie, thee, water en diverse groenten. In de instructiebrief lees je wat je allemaal nog mag eten. Ook krijg je er een shakebeker bij waarmee je meteen aan de gang kunt.

Met dit programma zal je in 10 dagen grote stappen maken richting je streefgewicht. Je krijgt voor elk eetmoment 10 producten opgestuurd zodat je voor alle dagen voorzien bent. De maaltijdvervangers bevatten alle bouw- en voedingstoffen die ervoor zorgen dat jij op een gezonde en verantwoordelijke manier kunt afvallen. Jij straalt weer!

Inhoud 10-dagenpakket
Voor elk eetmoment een selectie van 10 producten:
Ontbijtproducten:
Muesli chocolade-karamel
Havermout
Havermout appel-kaneel
Havermout met rode vruchten
Kruiden-uienomelet
Smoothie met aardbei-banaansmaak
Milkshake met pistachesmaak
Milkshake met kersensmaak
Milkshake met mangosmaak
Milkshake hazelnoot
Milkshake kokosnoot
Milkshakes:
Milkshake Aardbei
Milkshake met bananensmaak
Milkshake caffè latte
Milkshake chocolade
Milkshake met karamelsmaak
Milkshake met rode vruchtensmaak
Milkshake met vanillesmaak
Shake met appel & blauwe bessensmaak
Shake met cookie-&-creamsmaak
Shake met wittechocoladesmaak
De milkshakes dienen te worden aangemaakt met melk, en de shakes met water
Avondeten:
Chicken-curry noodle soep
Groentesoep
Kippensoep
Chili
Cottage pie
Spaghetti
Pasta carbonara
Kokosnoot dessert
Chocolade dessert
Tussendoortjes:
Amandel-fruitreep
Yoghurt-citroenreep met omhulsel van witte chocolade
Chocoladereep (melk)
Chocoladereep (puur)
Pinda-mueslireep deluxe
Amandelreep met pompoenpitten
Karamelreep
Chocoladereep met pindasmaak
Kokosnootreep
De lijst met producten is een voorbeeld, de inhoud van de box kan afwijken. De aantallen van de producten zullen altijd hetzelfde zijn.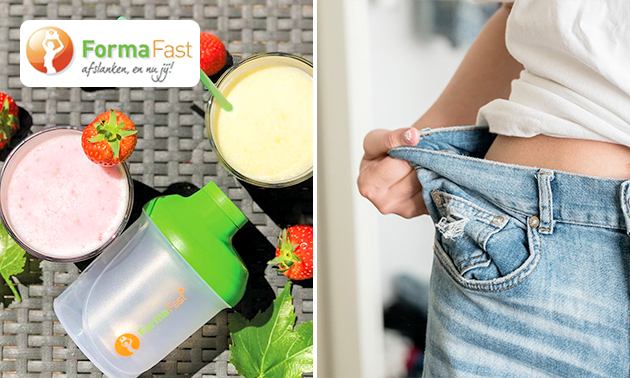 Thuisbezorgd: 10-daags dieetpakket + shakebeker
Now available
In short
Afvallen zonder hongergevoel met een 10-daags X-treme dieetpakket (gratis thuisbezorgd) van FormaFast: inclusief shakes, maaltijden, maaltijdrepen en een shakebeker