Workshop essentiële oliën maken + koffie/thee
Workshop essentiële oliën maken (1,5 uur) inclusief koffie/thee en lekkernij bij De Online Salon: of kies voor een massage met edelstenen (30 min) of een reikibehandeling (60 min) The fine print
Valid from moment of purchase until 1 Oct 2020
De workshop is geldig op maandag t/m zaterdag
De massage en reikibehandeling zijn geldig op maandag, dinsdag en donderdag
Reserveren: na aankoop via e-mail reserveren (onder vermelding van Social Deal)
De Online Salon ist geschlossen bis einschließlich 2 Mar 2021
Vragen over de deal? Bel: 088-205 05 05 of WhatsApp met: 088-205 05 05
Read more
Kom naar De Online Salon en ontdek de helende werking van verschillende essentiële oliën tijdens een workshop waarin je je eigen olie leert maken. Tijdens de workshop krijg je ook een kopje koffie of thee. Of laat je in de watten leggen met een massage van gelaat, nek, decolleté en schouders of kies voor een reikibehandeling. Jij komt helemaal tot rust!

Workshop essentiële oliën maken (1,5 uur)
Tijdens de workshop ga jij aan de slag met het maken van je eigen essentiële olie. Tussendoor geniet je van een lekker kopje koffie of thee en iets lekkers. Jouw zelf samengestelde oliën neem je aan het eind van de les mee naar huis. De olie zit in een rollerbottle en is makkelijk aan te brengen op de huid. Je kunt het dagelijks gebruiken voor stress, hoofdpijn, ontspanning en spierpijn. Perfect voor een leuke middag of ochtend samen met vriendinnen!

Gezichtsmassage met edelstenen (30 minuten)
Deze behandeling is geïnspireerd op de Aziatische cultuur. Door de universele energieën van de edelstenen, ervaar je een moment van pure ontspanning. Naast het gelaat worden ook je nek, decolleté en schouders gemasseerd. Lichaam en geest raken helemaal in balans!

Reikibehandeling (60 minuten)
Reiki is een Japanse methode waarbij er via handoplegging helende energie wordt doorgegeven. Dit geeft het natuurlijke zelfgenezend vermogen van het lichaam een boost. Het helpt je bij het herstellen van de natuurlijke balans. Fysieke, mentale en emotionele klachten worden aangepakt en na afloop voel jij je weer gezond en fit. Gun jezelf deze pure weldaad!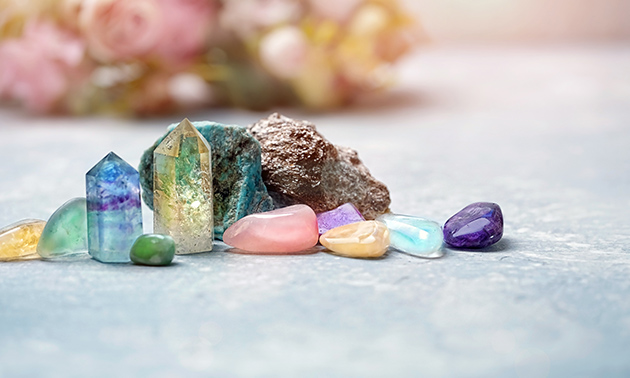 Workshop essentiële oliën maken + koffie/thee
Workshop essentiële oliën maken (1,5 uur) inclusief koffie/thee en lekkernij bij De Online Salon: of kies voor een massage met edelstenen (30 min) of een reikibehandeling (60 min)