Online moordspel bij jou thuis (2 tot 5 personen)
Online moordspel (1,5 uur) voor 2 tot 5 personen van Uitjesbazen: laat je meeslepen door het spannende verhaal, onderzoek het bewijsmateriaal en los de moordzaak op
tousenowoutline Now available
The fine print
This deal can be used now
Valid from moment of purchase until 21 Apr 2021
Reserveren:

na aankoop online reserveren met 'Social Deal Reserveren' (te vinden onder het overzicht: mijn vouchers)

vermeld je adresgegevens bij 'opmerkingen' zodat je het pakket kunt ontvangen

het pakket wordt altijd zo snel mogelijk op de post gedaan, ongeacht op welke dag je het pakketje reserveert, houd rekening met een levertijd van +/- 3 werkdagen

Vragen over de deal? Bel: 011 / 96 07 39 of WhatsApp met: 011 96 07 39
Read more
Laat je meeslepen door het spannende online moordspel van Uitjesbazen! Je speelt dit spel met 2 tot 5 personen, gewoon vanuit huis. De beleving begint al van tevoren, wanneer jij een pakketje met bewijsmateriaal via de post ontvangt. Daarnaast heb je alleen pen en papier én een laptop of telefoon met internetverbinding nodig. Het spel is geschikt vanaf 12 jaar, perfect om samen met je gezin of met huisgenoten te spelen!

Met deze deal krijg je een spel van hoge kwaliteit, voor een unieke lage prijs. Lukt het jullie om de mysteries op te lossen, de dader aan te wijzen en de zaak op te lossen?

Online moordspel voor 2 tot 5 personen (1,5 uur)
De burgemeester is vermoord. En jij wordt verdacht. Aan jou de taak om de echte dader te vinden en zo jouw onschuld te bewijzen. Met behulp van het bewijsmateriaal ga je op onderzoek uit. Je ontvangt via de post een pakket met cryptische aanwijzingen, getuigschriften, alibi's en ander bewijsmateriaal. Stap voor stap wordt steeds meer duidelijk over het slachtoffer, het wapen en het motief. Een zenuwslopende beleving die je steeds dichterbij de ontknoping brengt. Er is geen tijd te verliezen. Dus waar wacht je nog op?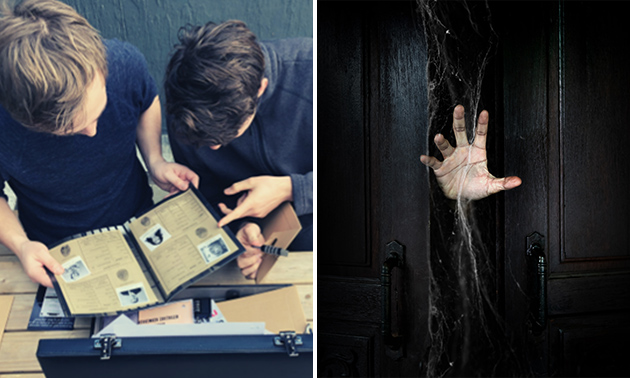 Online moordspel bij jou thuis (2 tot 5 personen)
tousenowoutline Now available
Online moordspel (1,5 uur) voor 2 tot 5 personen van Uitjesbazen: laat je meeslepen door het spannende verhaal, onderzoek het bewijsmateriaal en los de moordzaak op