Entree voor Papegaaienpark Zoo Veldhoven
Entree voor Papegaaienpark Zoo Veldhoven: kijk je ogen uit en spot onder andere kleurrijke papegaaien, flamingo's, ringstaartmaki's en kamelen
Highlights
Multideal:

Entree kind (3 t/m 12 jaar) €7,45

Entree volwassene (vanaf 13 jaar) €8,95

See the great reviews here
Sta oog in oog met papegaaien, roofvogels, ringstaartmaki's, flamingo's, pelikanen en nog veel meer dieren
Kinderen t/m 2 jaar gratis toegang
Beleef een fantastische dag met het hele gezin
Er is ook een overdekte bamboejungle waar kinderen binnen kunnen spelen
Ook geldig in het weekend!
The fine print
Valid from moment of purchase until 1 Nov 2020
7 dagen per week geldig
Reserveren:

na aankoop via e-mail reserveren (onder vermelding van Social Deal), je voucher is je entreebewijs (geprint of in de app)

vermeld in de e-mail de dag waarop je wilt komen en het aantal personen waarmee je langskomt

Vragen over de deal? Bel: 011 / 96 07 39 of WhatsApp met: 011 96 07 39
Read more
Heb jij ook zin in een gezellig dagje uit met het hele gezin? Breng dan een bezoek aan Papegaaienpark Zoo Veldhoven! Hier spotten jullie de meest kleurrijke en indrukwekkende vogels zoals papegaaien, watervogels en roofvogels. Naast de prachtige vogels zijn er ook verschillende zoogdieren te zien, zoals ringstaartmaki's, zebra's en kamelen.

Het dierenpark heeft ook een gezellig terras waar je na een leuke dag dieren kijken kunt bijkomen terwijl de kinderen spelen op de speeltoestellen. Kom gezellig een dag naar Zoo Veldhoven en kijk je ogen uit!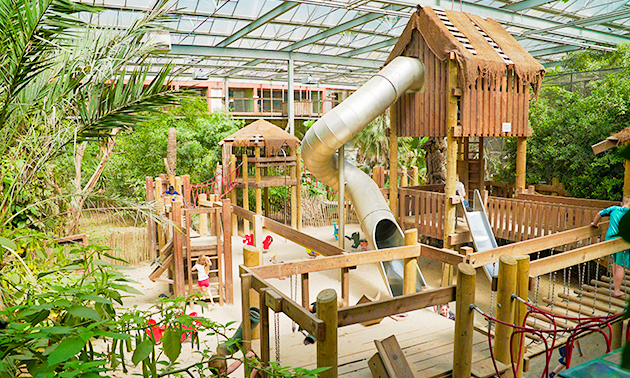 Entree voor Papegaaienpark Zoo Veldhoven
9.0 star
Papegaaienpark Zoo Veldhoven
Entree voor Papegaaienpark Zoo Veldhoven: kijk je ogen uit en spot onder andere kleurrijke papegaaien, flamingo's, ringstaartmaki's en kamelen