Entree Safaripark Beekse Bergen
Gehele dag entree voor Safaripark Beekse Bergen: waan je op de Afrikaanse savanne en sta oog in oog met leeuwen, neushoorns, zebra´s, olifanten en meer Highlights
Gehele dag entree voor Safaripark Beekse Bergen
See the great reviews here
Waan je op de Afrikaanse savanne en beleef een onvergetelijk avontuur
Bewonder ruim 1400 dieren
Sta oog in oog met olifanten, neushoorns, leeuwen, gorilla's en meer
Ook geldig op zaterdag én zondag
Het park is rolstoeltoegankelijk en er is een invalidentoilet
Kinderen onder 3 jaar gratis toegang
Voor beestachtige voorpret: download alvast de Beekse Bergen-app bij Google Play of de App Store
Extra lange geldigheid!
The fine print
Valid from moment of purchase until 11 Jul 2021
Let op: de voucher is geldig tot bovenstaande datum en kan niet worden verlengd
7 dagen per week geldig (bekijk hier de actuele openingstijden)
Reserveren: na aankoop via de website reserveren (onder vermelding van Social Deal)
Exclusief uitrijticket (als je met de auto komt): €9,50 per auto
Huisdieren zijn niet toegestaan
Questions about this deal? Call: 088-205 05 05 or send a WhatsApp message to: 088-205 05 05
Read more
Ontdek de prachtige natuur van Safaripark Beekse Bergen. Samen er écht even tussenuit. Ga op safari door de natuur en kom oog in oog te staan met wilde dieren. Een leerzame en unieke reis door de wereld van Beekse Bergen.

Bij Beekse Bergen kun je 365 dagen genieten. Je kunt namelijk het gehele jaar op safari, ook op feestdagen! Ontdek het dagprogramma en stel zelf jouw perfecte dag samen!

Tijdens een bezoek aan Safaripark Beekse Bergen verveel je je nooit. In het Safaripark vind je een perfecte combinatie van avontuur en ontspanning voor jong en oud. Ontdek de mogelijkheden en plan je dag! De vier typen safari's zijn bij de entreeprijs inbegrepen!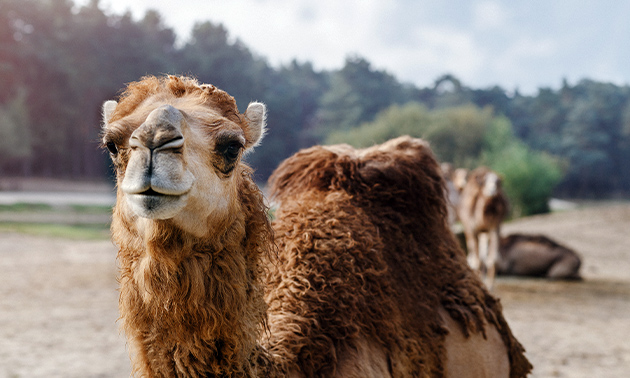 Entree Safaripark Beekse Bergen
Gehele dag entree voor Safaripark Beekse Bergen: waan je op de Afrikaanse savanne en sta oog in oog met leeuwen, neushoorns, zebra´s, olifanten en meer